CANAM Tour
Come check out the CANAM curling tour this Thursday afternoon (November 14th) at 3pm. Three men's teams from the USA will be here completing against three teams from the Highlander Curling Club. Check out the USA teams' tour at their Facebook page or CANAM Tour Log
Bartenders Needed!!
Highlander Curling Club is fully run by dedicated volunteers, but we are in need of a bit more help! We need a few more people to help with bar tending duties during club bookings. Please contact Wayne Mullins at 735-2744 if you are interested in being added to the list!
Highlander Curling Club Hosts 55+ Games
The 55+ games curling committee would like to thank all the volunteers who helped make last weekend's tournament a success. There has been lots of praise directed toward the Highlander club for their hospitality, good food and great ice and none of that would be possible without our volunteers. Thanks again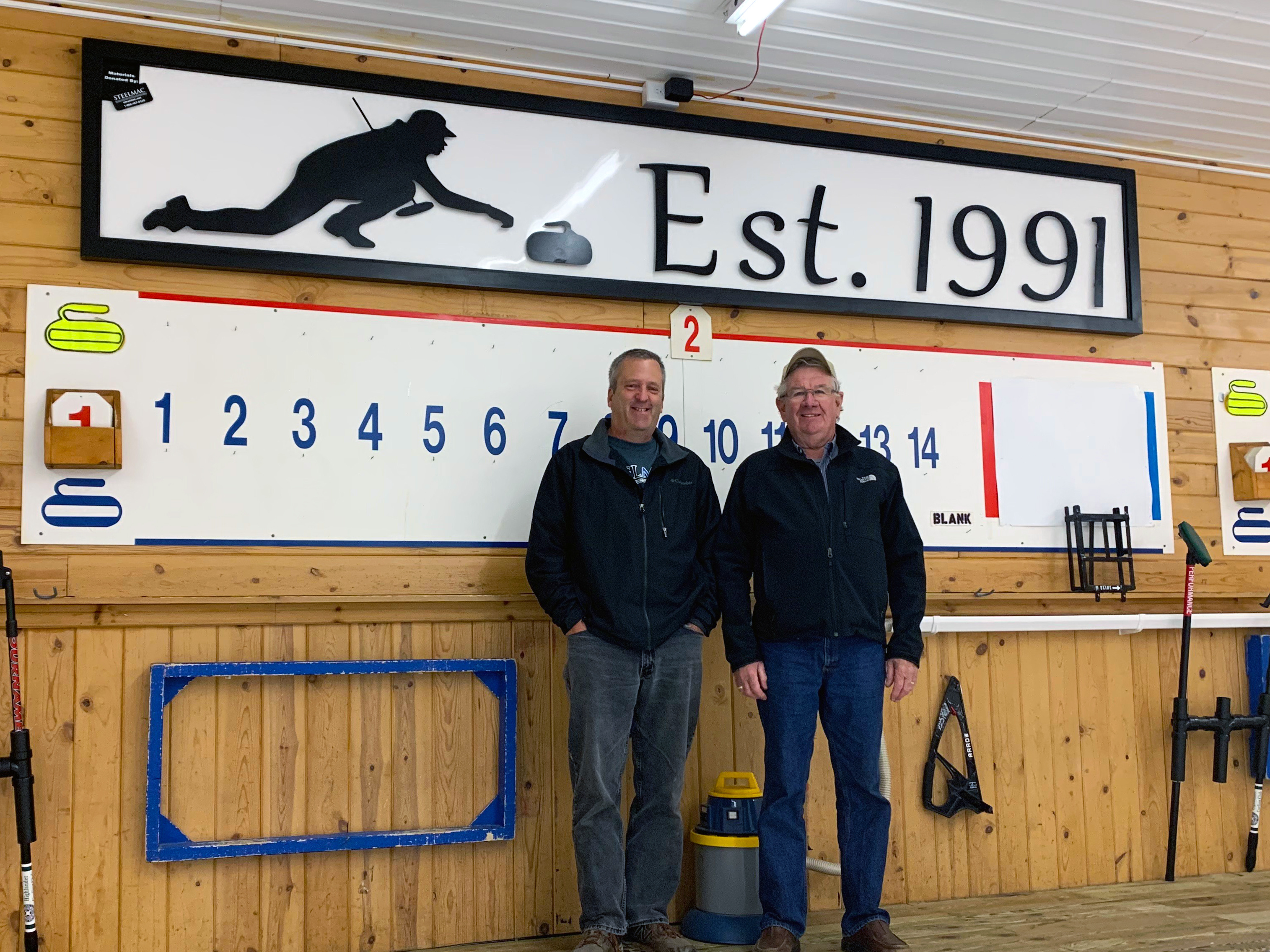 Check out the beautiful new sign at the back of the rink!!
The new sign is the brainchild of club member Roy Lawlor (on right) who contacted club member Rob Thompson (on left) over the summer to initiate the project. Rob, who works at Steelmac (https://steelmac.net/), collaborated with Roy to finalize the design of the sign, which was cut on their new plasma table.
A special thanks to the Owner of Steelmac Aaron MacDonald, who donated the components and construction costs of the sign.
Highlander Curling Club You Tube Channel
Highlander Curling Club now has its own You Tube Channel!!!! Check out the first cool video, as we get a "rocks view" as the stone curls down the ice, with many Highlander Curling Club members making cameos!! Huge Thanks to Board Member Edwin DeMont for creating this awesome video and our You Tube Channel, as well as Board Member Graeme Fraser for throwing the shot! **BEST VIEWED ON THE YOU TUBE APP ON MOBILE**Watch for more cool videos this season!!
Sunday Night Mixed Winners 2018-2019
On Sunday, March 31st, the Sunday Night Mixed League wrapped up their season play with awards presentations for both the First and Second half of the season. Pictured below are the winners in each Division. Special thanks to organizers Cathy MacDonald and Joyce vanBerkel, along with ice-maker Wayne Richards!

Highlander Junior Program Wraps Up 2018-2019 Season
On March 30, fifteen curlers from our Junior Program attended the New Glasgow Junior Bonspiel at the Bluenose Curling Club. We had two teams in U13 and two at the U19 level.

Our curlers were:

(U13) Team Thibodeau (Sam Lazzuri, Colin MacNeil, Brody MacNeil and Ryker Thibodeau)
(U13) Team Verkoeijen (Rowan Stewart, Thayden Power, Simon Nicholson, Sanne Verkoeijen)
(U19) Team Nicholson (Tessa Pelrine, Joe Lazzuri, David Nicholson)
(U19) Team Halloran (Brooklyn Jordan, Nathaniel Smith, Ryan Sangster, Aidan Halloran)

Team Halloran placed 2nd overall and Team Verkoeijen was 3rd. Most importantly, our curlers had lots of fun playing other teams from the Bluenose and New Caledonia Curling Clubs.

We look forward to hosting and playing more games against these clubs in the 2019-2020 season!

As our regular season winds down I should relate that we had a very successful year-- we had 35 curlers in our Junior Program, split between U13 and U19 ages. Each week we worked on skills and gameplay all the while having fun and learning about curling. The success of the program rests squarely with my assistants, who each week helped deliver the program to the curlers. Nathaniel Smith, Victoria Rankin and Evan Perry were amazing to work with and I know the kids loved interacting with them.

Thanks goes out as well to the Curling Club Board of Directors who have continued to support this program. Junior Curling is bringing in lots of new young people to the sport of curling, all of whom I hope will continue to play curling in the years to come.

Brian Nicholson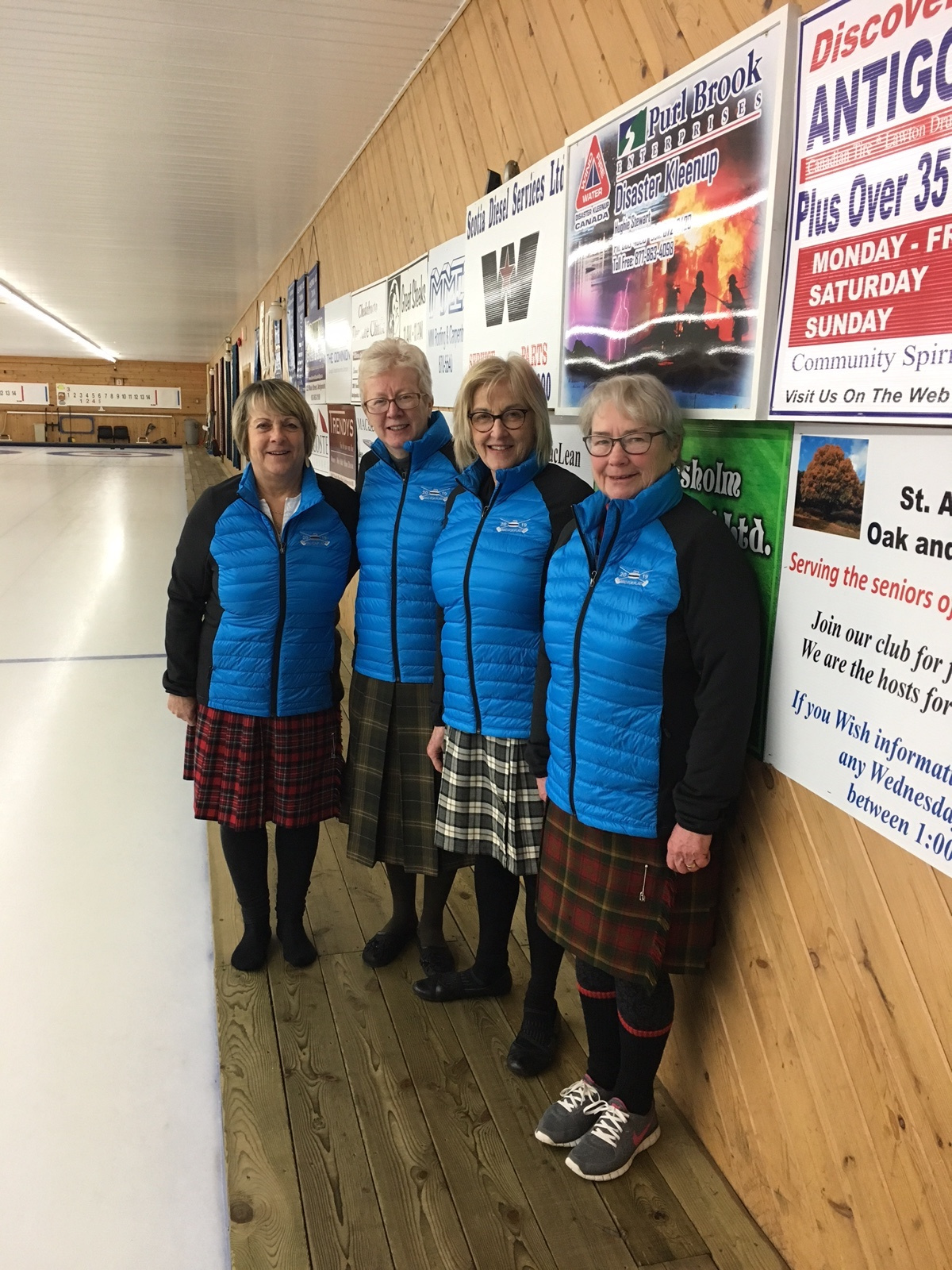 Congrats to the winning 2019 Mad for Plaid team - Cathy MacDonald, Roselle Lawlor, Margie Vande Weil and Ginny Webb. Second place was the team skipped by Jo-Anne Doiron and third place was the team skipped by Jackie MacDonald.
A huge thank-you goes out to Colleen MacDougall for organizing this successful women's bonspiel each year!
Photo (L-R): Ginny Webb, Roselle Lawlor, Cathy MacDonald and Margie Vande Weil
2018-2019 First Half Results
The first half of the curling season is over already and many league teams are changing and preparing for the second half. Pictured below are winners from the first half. Best of luck in 2019!
Highlander Curling Club Junior Bonspiel
On December 15, the Highlander Curling Club held a Junior Bonspiel with Teams in attendance from the Bluenose, Highlander and Chedabucto Curling Club. Lots of friends and family were on hand to cheer our youngest curlers on as they played their games.

Each game was 5 ends long and full of excitement and great shot making. The overall winners of the Tournament were from the Bluenose Curling Club. Team members from the New Glasgow based rink included: Jack Higdon, Conrad Roberston, Joe O'Neil, Cullen Park and Ben Hingley.

Congratulations to all the participants. It was a great learning experience for our teams and lots of fun was had. A big thank you goes out to Jim Marlow and Wayne Richard for having the ice in tip-top shape. Also thanks to the parents of our curlers who brought food, got the kitchen ready and helped clean up afterwards. Couldn't have had as good a bonspiel without you!


Brian Nicholson
Junior Program Coordinator
2018 Scotties Qualifier - December 6th-9th
The Highlander Curling Club was pleased to host the 2018 Nova Scotia Women's Qualifier from December 6th-9th. Teams from all across Nova Scotia attended to earn a birth in the Nova Scotia Playdowns. Six teams advanced from this event to round out the eight team pool.

HUGE THANK YOU to all of those who helped make this event so wonderful! We received nothing but praise from participants and visitors! Job well done!!
Curling: A 2-Minute Guide
What's New with Junior Curling?
Friday, October 19th: U11 Clinic
On Friday October 19th Donelda Mattie ran a Refresher Clinic for our Under 11 Returning Curlers. This was a great chance for those younger curlers to get the rust off the rocks and brooms before the regular program begins. See images from this event below!
Friday, October 26th: Regular Junior Curling Begins (7-8:30pm)
2017-2018 League Championships
Another curling season has concluded with Highlander Curling Club teams competing for their respective League Championships. Pictured below are award winners for both Tuesday Night Ladies League and Thursday Night Mixed League.
Curling Fun Day Event
A huge thank you to all those who came out to participate in the Curling Fun Day today! The numbers were well over our expectations so THANK YOU! And of course thank you to all of the volunteers who helped make it the success it was.
If you have any questions about renting the ice or participating in a league (either as a spare or regular member) please contact us via our Facebook page or website.
Below are a few pictures from a great day! We look forward to seeing all these new faces around the rink again soon!
The Highlander Curling Club's first leagues started in 1992. It was built almost entirely by volunteers and continues to be run to this day 100% by volunteers.

The Highlander Curling Club has hosted many high calibre events including the Nova Scotia Scotties playdowns, Men's Tankard playdowns, provincial junior qualifiers, Provincial Seniors Mens & Womens, AUS championship among many others.

There are leagues taking place six days a week and opportunities for booking the club for events such as fundraising bonspiels, staff parties and family gatherings
NOTE: Highlander Curling Club does not accept credit or debit.
Hwy 316 Civic #3916
St Andrews, Nova Scotia B0H1