Highlander Curling Club Closing Early
IMPORTANT NOTICE:
In response to ongoing concerns with the spread of COVID-19, and in keeping with other sport organizations, Highlander Curling Club will be cancelling all further events, including leagues games for the remainder of the season: effective Saturday, March 14th at 12 midnight.
The Board of Directors would like to extend its thanks to all the hard working volunteers that make our club a reality. It's unfortunate to end our season in this way, but the safety of our members is paramount.
Stay safe everyone!

The Board of Directors at the Highlander Curling Club would like to wish everyone a Merry Christmas and a Happy New Year! Looking forward to seeing everyone at the rink in 2020!!
Highlander Curling Club Junior Bonspiel 2019
On December 14, the Highlander Curling Club hosted a Junior Bonspiel. Six teams participated and each team played three six end games. Two teams were from Bluenose Curling Club in New Glasgow , one was from Chedabucto Curling Club in Boylston and three were from our home club.
In the first draw, Team Page (Bluenose) defeated Team Thibodeau (Highlander) 11-7. Two teams from Highlander clashed with Team Lazzuri beating Team Smith 8-5. Team Higdon (Bluenose) edged Team Grady(Chedabucto) 6-5 on the last shot of the game.
During the second draw, Team Smith and Page played to a 9-9 draw. Team Grady beat the Lazzuri Rink 11-2 and Team Higdon beat Team Thibodeau 11-3.
The last draw of the afternoon saw Team Smith fall to Team Higdon 5-8, with an exceptional shot by Skip Jack Higdon taking out two rocks with the hammer to score three in the final end. Team Grady got a win over Team Page 14-3 and Team Lazzuri bested Team Thibodeau 8-3.
The shot of the Spiel was made by Skip Ryker Thibodeau who executed a perfect draw to the pin by coming around three center line guards to out count the opposition stone covering the back part of the button. Thayden Power won the most sportsmanlike.
Thanks to Jim Marlow and Wayne Richard for doing the ice before the event and also to Wayne, John Cameron and Chris Higdon who helped do the ice in the afternoon. Daan Verkoeijen and Clare Lazzuri operated the kitchen and kept the curlers fed at lunch and snack time. Thanks as well to all the Highlander Curling Parents who brought food and snacks.
It was a great day of curling. Some amazing shots were made by many of the curlers. The level of sportsmanship was exceptional and everyone would have been proud of how all the curlers handled themselves out on the ice.
Lastly, thanks to everyone, family, friends and curling fans who came to watch and cheer on the curlers. It was a great day of junior curling that we hope to repeat in the near future and our club and at other Junior Bonspiels in Northeastern Nova Scotia!
Nova Scotia 55+ Games Legacy Gift
Many thanks to the Nova Scotia 55+ Games Committee for donating a Legacy Gift of an Automated External Defibrillator (AED) to the Highlander Curling Club!
Pictured L to R are; Tricia Cameron, Len MacDonald, Diane Roberts, Lorne Deering and Shirlyn Donovan.

CANAM Tour
The CANAM tour was a huge success at the Highlander Curling Club. Three teams from the USA competed against three teams from the Highlander. Below is a photo of the whole group. Congratualations to all involved! Check out the USA teams' tour at their Facebook page or CANAM Tour Log
Bartenders Needed!!
Highlander Curling Club is fully run by dedicated volunteers, but we are in need of a bit more help! We need a few more people to help with bar tending duties during club bookings. Please contact Wayne Mullins at 735-2744 if you are interested in being added to the list!
Highlander Curling Club Hosts 55+ Games
The 55+ games curling committee would like to thank all the volunteers who helped make last weekend's tournament a success. There has been lots of praise directed toward the Highlander club for their hospitality, good food and great ice and none of that would be possible without our volunteers. Thanks again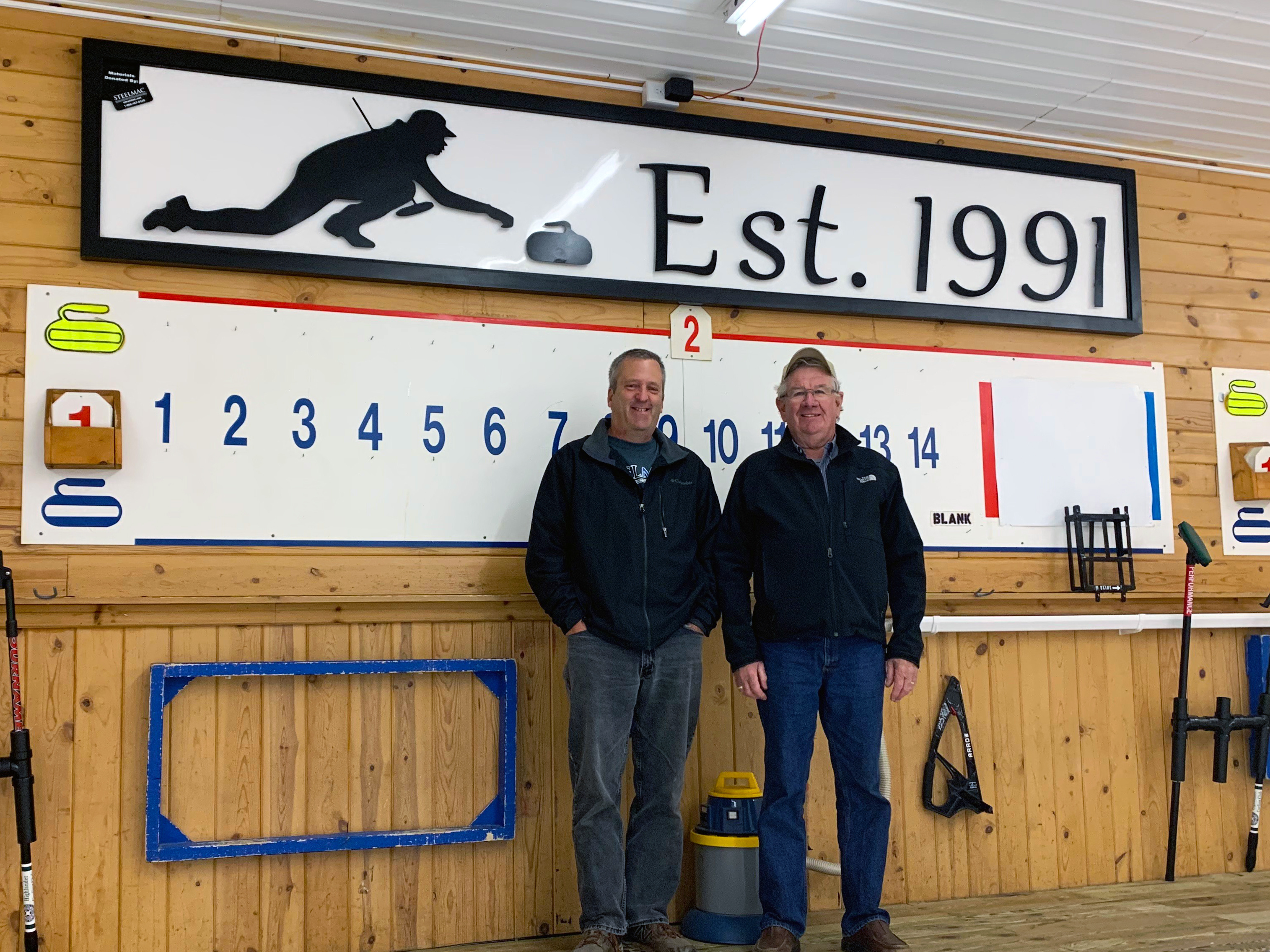 Check out the beautiful new sign at the back of the rink!!
The new sign is the brainchild of club member Roy Lawlor (on right) who contacted club member Rob Thompson (on left) over the summer to initiate the project. Rob, who works at Steelmac (https://steelmac.net/), collaborated with Roy to finalize the design of the sign, which was cut on their new plasma table.
A special thanks to the Owner of Steelmac Aaron MacDonald, who donated the components and construction costs of the sign.
Highlander Curling Club You Tube Channel
Highlander Curling Club now has its own You Tube Channel!!!! Check out the first cool video, as we get a "rocks view" as the stone curls down the ice, with many Highlander Curling Club members making cameos!! Huge Thanks to Board Member Edwin DeMont for creating this awesome video and our You Tube Channel, as well as Board Member Graeme Fraser for throwing the shot! **BEST VIEWED ON THE YOU TUBE APP ON MOBILE**Watch for more cool videos this season!!
Curling: A 2-Minute Guide
The Highlander Curling Club's first leagues started in 1992. It was built almost entirely by volunteers and continues to be run to this day 100% by volunteers.

The Highlander Curling Club has hosted many high calibre events including the Nova Scotia Scotties playdowns, Men's Tankard playdowns, provincial junior qualifiers, Provincial Seniors Mens & Womens, AUS championship among many others.

There are leagues taking place six days a week and opportunities for booking the club for events such as fundraising bonspiels, staff parties and family gatherings
NOTE: Highlander Curling Club does not accept credit or debit.
Hwy 316 Civic #3916
St Andrews, Nova Scotia B0H1