Maritime Master Curling Championships
Congratulations to the Highlander Ladies team of Leona Williams, Joyce Van Berkel, Paulette Tate, along with Iris Stanley and alternate Liz MacEachern, who captured second place in the Maritime Master Curling Championships held this past weekend in New Glasgow at the Bluenose Curling Club. Along the way, the team scored wins against the New Brunswick Masters champions as well as the PEI Masters champions, and the NB runners-up. A fine finish to the curling season!!
Mad for Plaid
On February 10th, 2018 the Highlander Curling Club hosted their annual Mad for Plaid Ladies Bonspiel. The event included 12 teams who came dressed in their plaid for a great day of curling.
Finishers are as follows:
4th Place - Team Doiron (Highlander Curling Club)
3rd Place - Team Juurlink (Highlander Curling Club)
2nd Place - Team Buckingham (Bluenose Curling Club)
1st Place - Team Williams (Highlander Curling Club)
Congratulations to all who participated and special thanks to Colleen MacDougall and all those who helped with organizing the event!
Pictured below are the winning team with their plaid outfits and their winning jackets. The team consists of (from left to right) Skip: Leona Williams, Mate: Joyce vanBerkel, Second: Liz MacEachern and Lead: Paulette Tate.
Highlander Junior Curling
Members of the Highlander Junior Curling program, under the direction of Brian Nicholson, have been busy this season participating in many events. In October the Juniors participated in the Turning Points Curling Clinic to work on various curling skills and in January the Juniors hosted a Mixed Doubles Jamboree. Below are some pictures of these events. The future of curling in our club is looking pretty good :)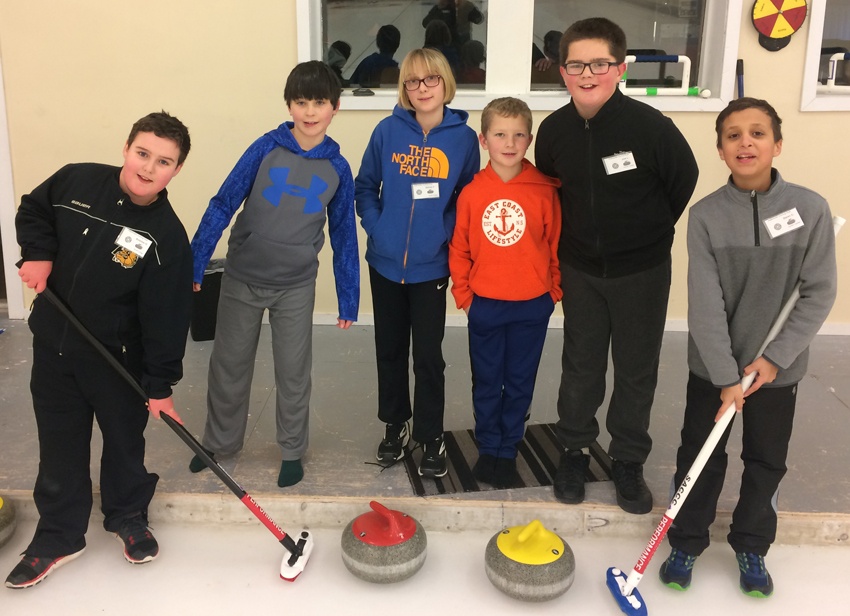 Several Highlander Curling Club Junior members participated in the Strait Area Curling Club's Junior Jamboree on Sunday, January 28, 2018.
Pictured(from left to right): Andrew Huff, Simon Nicholson, Sanne Verkoeijen, Sam Lazurri, Joe Lazurri and Owen Cameron.
Alzheimer's Fundraising Bonspiel
Special thanks to all those who participated in any way in the Alzheimer's Fundraising Bonspiel that was held at the Highlander Curling Club on Saturday, December 30th. The 12 team bonspiel raised approximately $1100 for the Alzheimer's Unit at the R.K. MacDonald Guest House. A great day was had by all!
2017 Traveler's Curling Club Championships
Congratulations to Highlander member and ice maker Jason van Vonderen on a great showing at the Travelers Curling Championship in Kingston, Ontario! Jason and his team based out of the Bridgewater Curling Club represented Nova Scotia well with a 4-2 record in round robin play and a 5-3 loss to Alberta in the quarter final.
Andrea Heffernan, former St. Andrews resident and Highlander member, represented the St. John's Curling Club as Team Newfoundland & Labrador. Their team went 1-5.
Congratulations Jason & Andrea on your accomplishment! The Highlander is so proud of you!
(Pics: Jason is second from left, Andrea is third from left)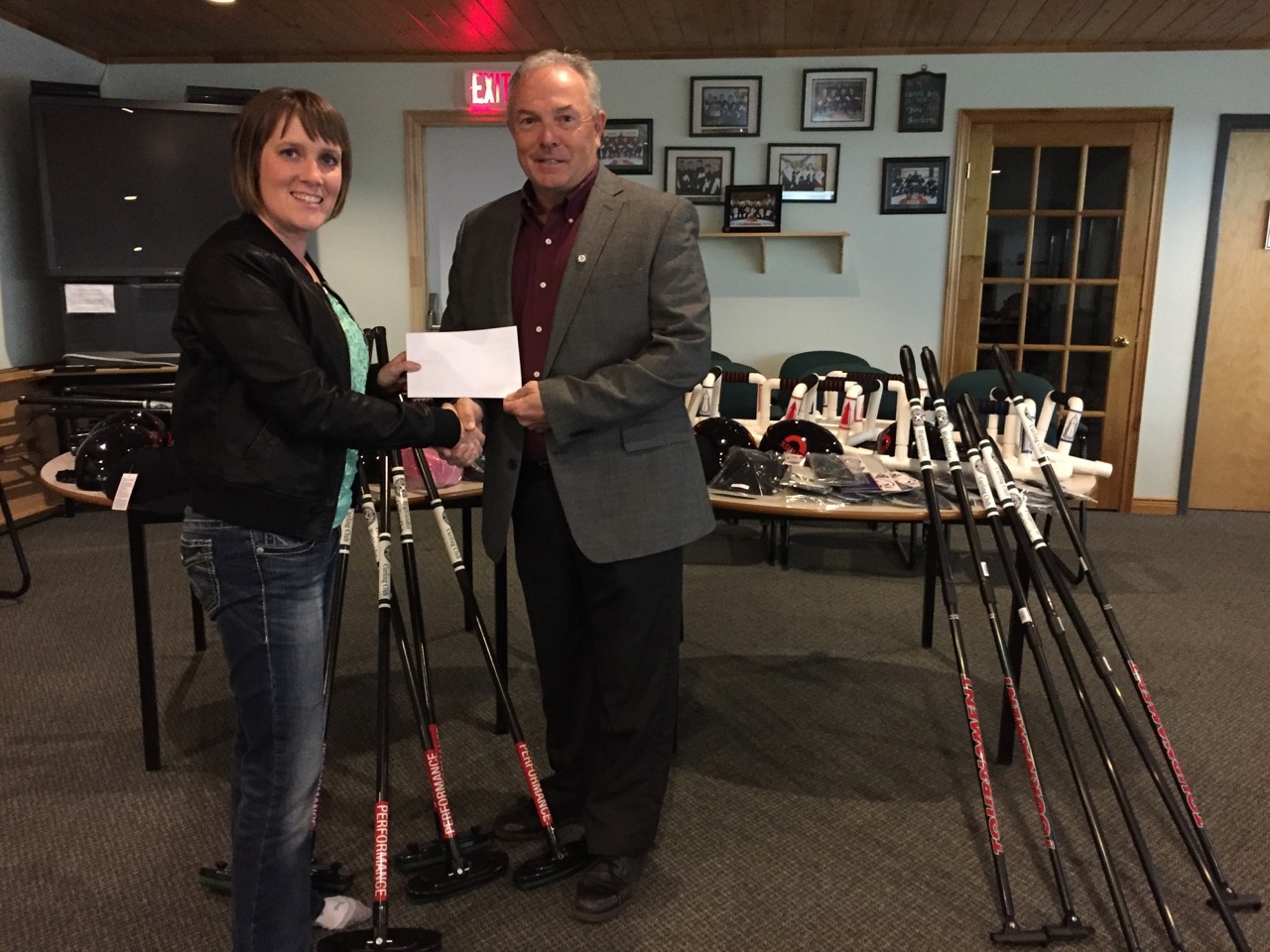 Special Thanks
The Highlander Curling Club would like to thank Owen McCarron and the Municipality of the County of Antigonish for a grant which enabled the club to purchase a significant amount of new equipment that will be available for those renting ice time at the club or for new curlers participating in league play.
March 18th - 22nd: Thunder Bay, Ontario
X-Women Competing at University Curling Championship

The team consists of: Therese McCurdy, Ashley Francis, Lauren MacFadyen, Emma Logan, fifth Sarah Snair and coach Carolyn Rose.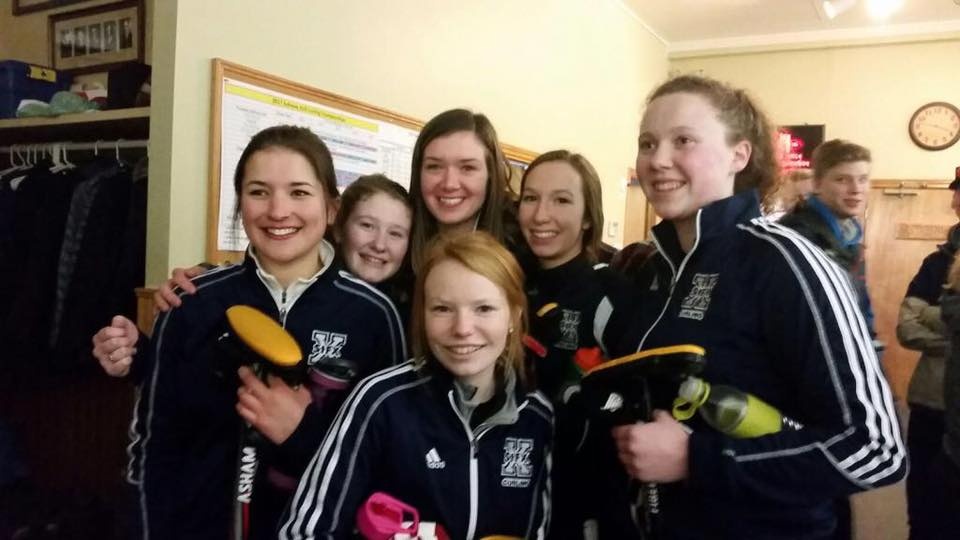 March 4th - 5th: Highlander Curling Club Cashspiel
Thank you to all who attended, and volunteered at, the Highlander Curling Club Cashspiel.
The Bluenose team (Picture 1 below) of Dave Clark, Taylor Clark, Gilda Chisholm, and Bailey Lonergan won the Highlander Cashspiel and the runner-up was the team (Picture 2 below) of Tyler Butler, Graeme Fraser, Brittany Wood, and Krista MacEachern from the Highlander.